Paint a plant pot in acrylics with The Artful Grimmer
Hi, I'm Ann from The Artful Grimmer and today I'll show you how to paint a terracotta plant pot using acrylic paint!
I started painting terracotta pots during the pandemic to house my growing indoor jungle. I love the way these pots add so much colour and cheer to my home, office, and studio.
For this project, I used acrylic paint in Lamp Black, Titanium White, Vermillion, Veridian, Cerulean Blue and Phthalo Blue. But don't feel like you must stick to these colours, use whatever colour combination speaks to you.
Extra materials you'll need:
Terracotta pot
Tape
HB pencil
Cardboard
Scissors
Start by taping the inside of the pot to get a clean line to paint down to. Dip a wide, flat brush into some gesso and apply one thin coat. If you don't have gesso handy, you can use white paint instead.
While the pot dries, you can cut some geometric shapes out of cardboard to use as stencils for the pot design. Place the stencils onto the pot and use a pencil to outline around the shapes.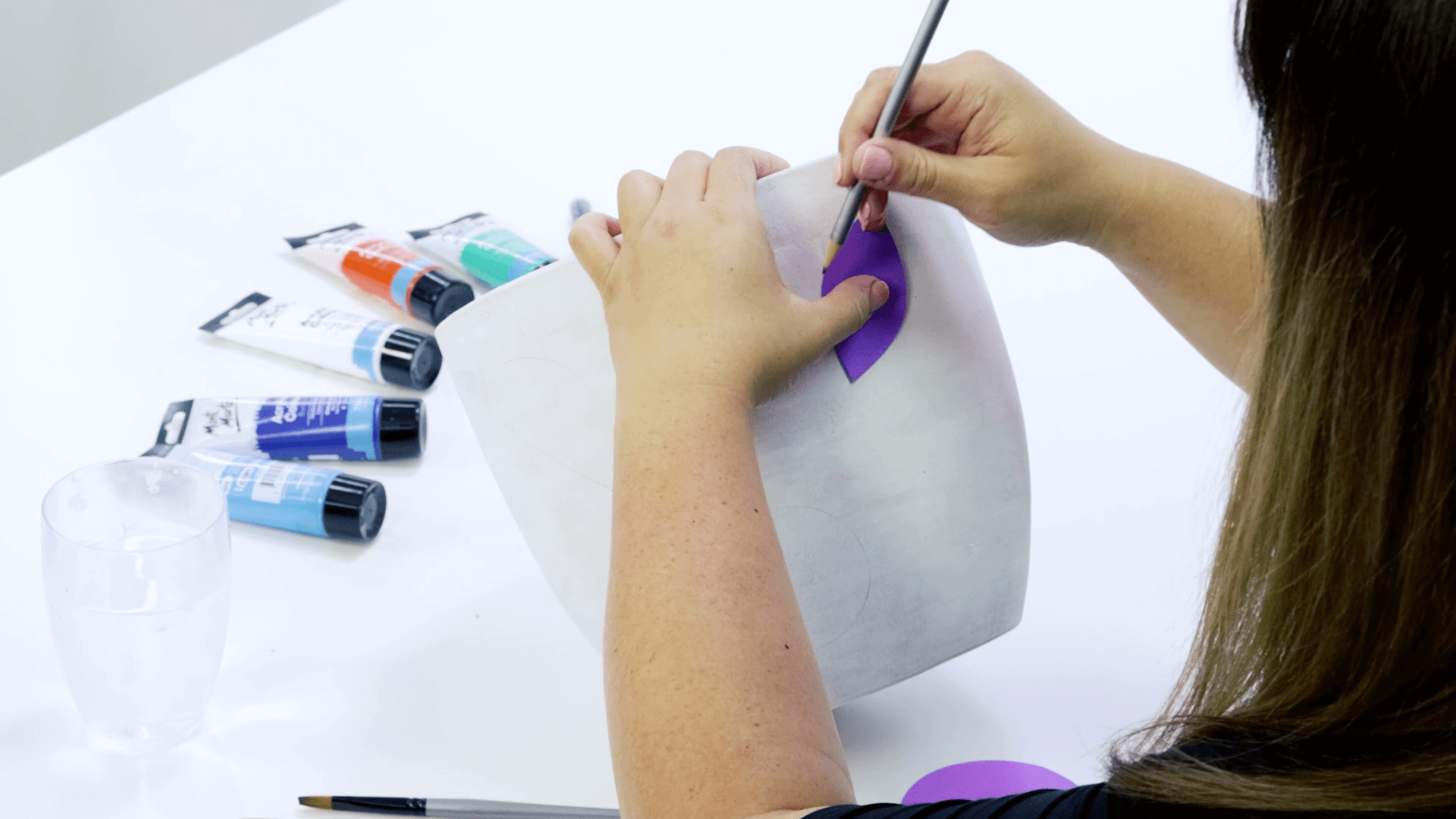 Draw in any extra detail you want in your pot design. For a more finished look, extend the design to the inside of the pot.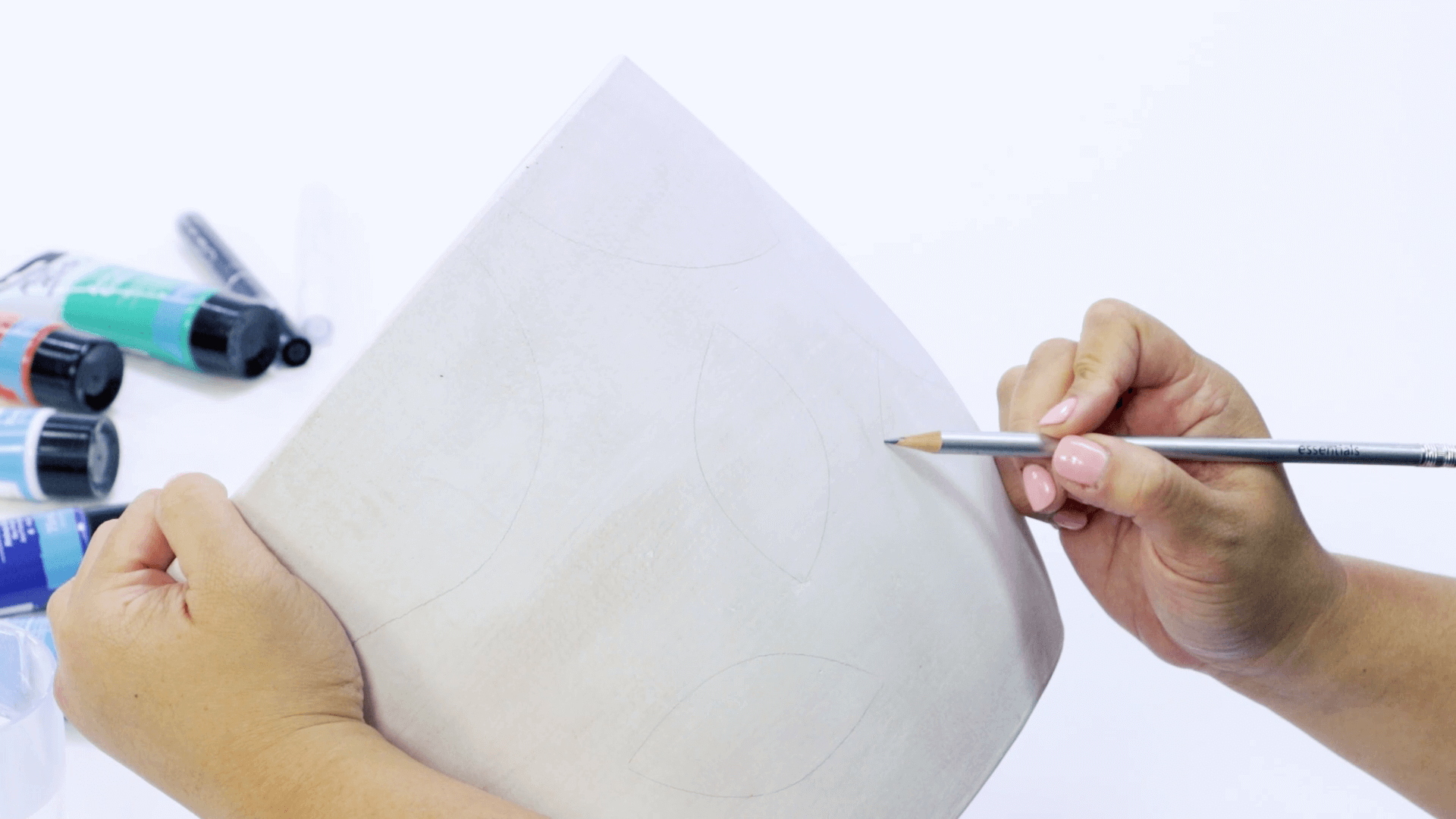 Now onto the fun part, painting! Squeeze out some Titanium White and Cerulean Blue onto a palette and mix them together to create a light pastel blue shade.
Using a medium flat acrylic brush, fill in the centre circle with the light blue, along with some of the background area at the bottom of the pot.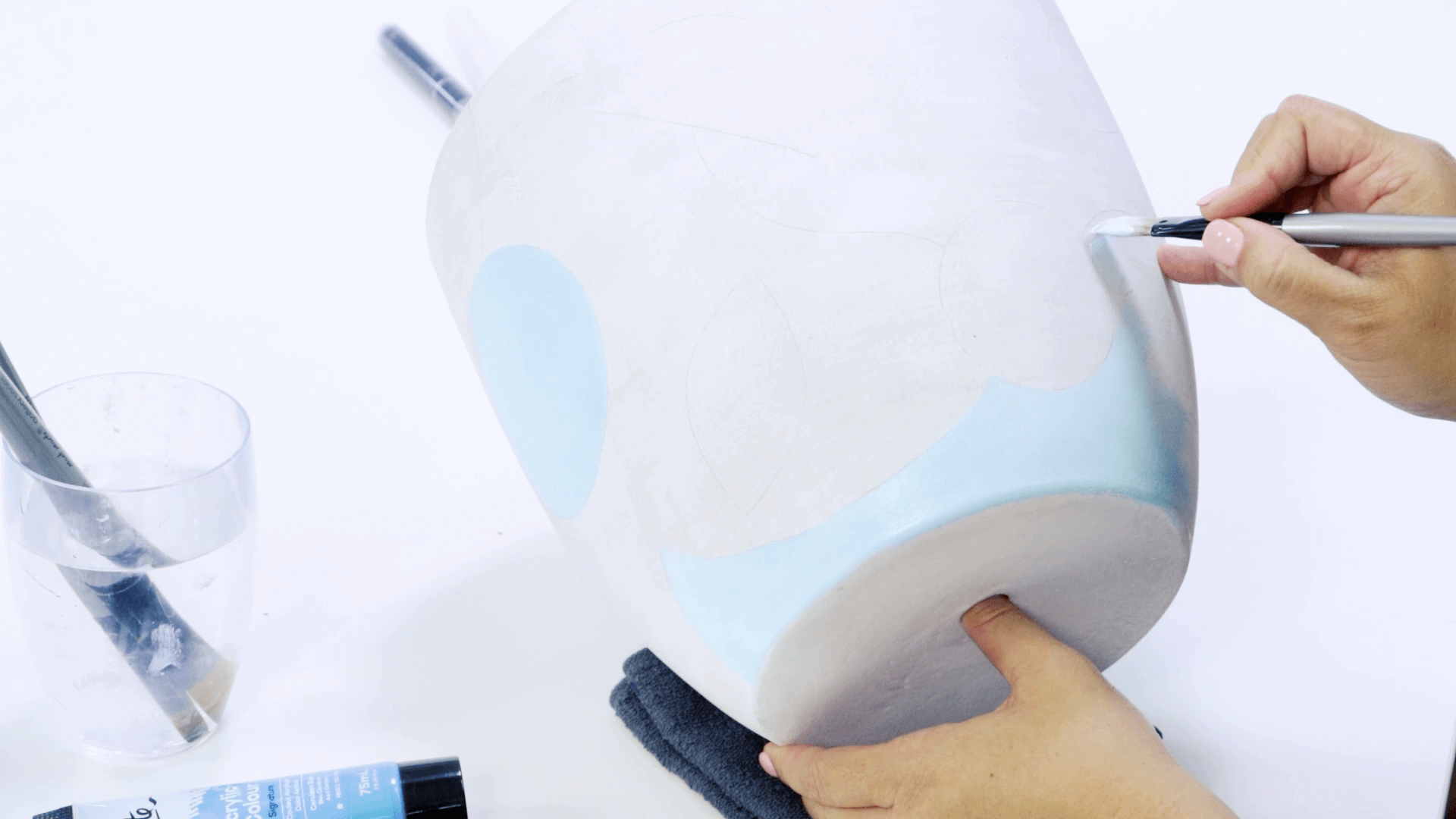 Squeeze out some plain Cerulean Blue Paint and use it to fill in some more shapes on your pot.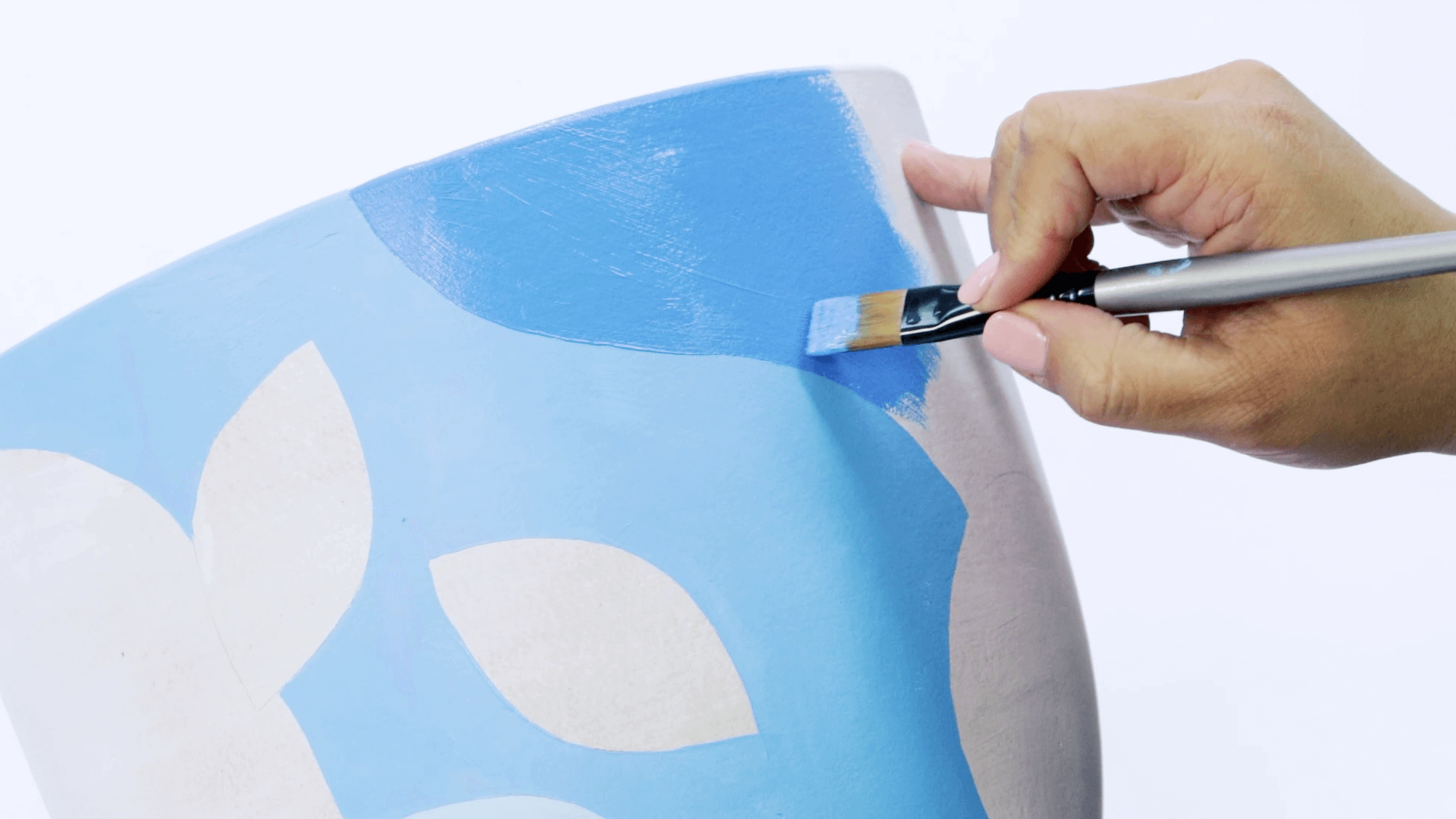 Next, mix some Titanium White with Viridian to make a turquoise colour and use it to fill in more of the background shapes.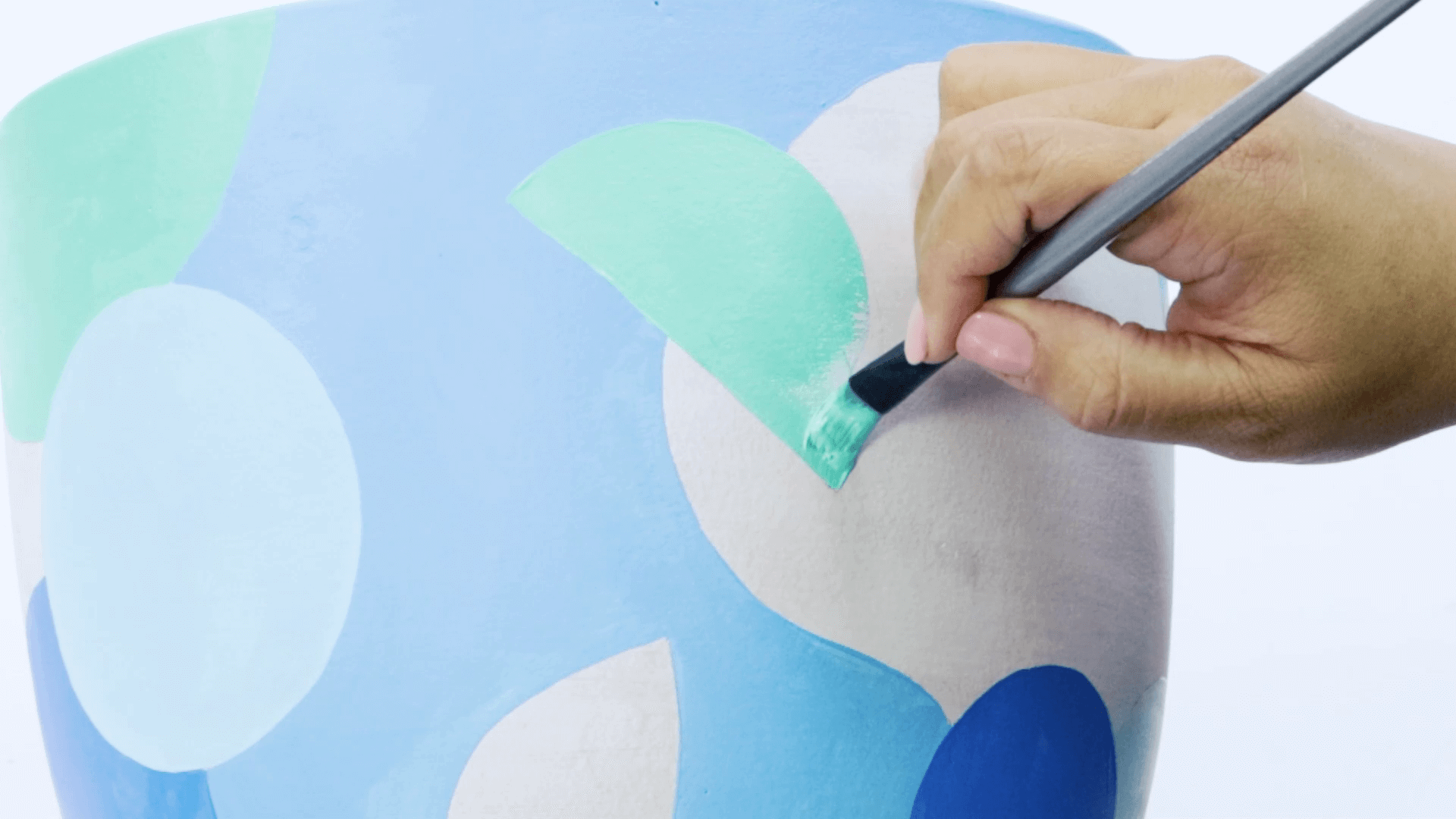 The final background colour is navy. Create this by mixing mostly Phthalo Blue with just a bit of Lamp Black and a touch of Titanium White.
Fill in all the shapes left in the background, apart from the leaf shapes. Remember, there's no right or wrong way to coordinate your colours – just make it your own!
To paint in the leaves, mix mostly Titanium White with a touch of Vermillion to make a pale pink colour. Use this shade to fill in half of the leaves on the pot.
Once all the halves of your leaves are painted light pink, add a touch more Vermillion to make a darker pink.
Use this dark pink to fill in the remaining halves of the leaves.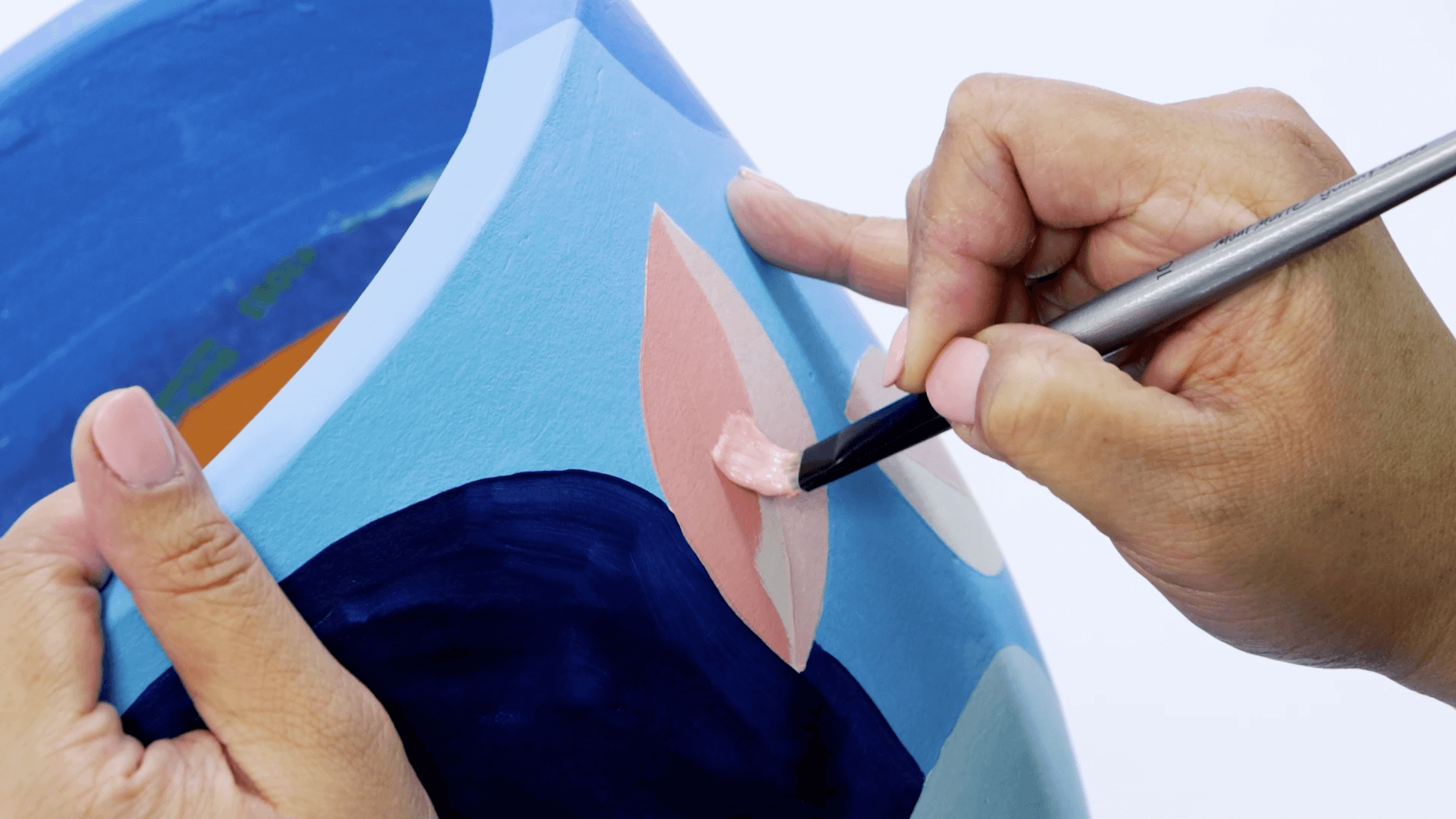 To get a thick, opaque finish, paint a second coat of colour once the pot is dry.
Once the second coat is dry, take a white acrylic paint pen to add a crisp outline and extra detail.
Shake the paint pen before you start drawing and you can even practice on a piece of paper beforehand.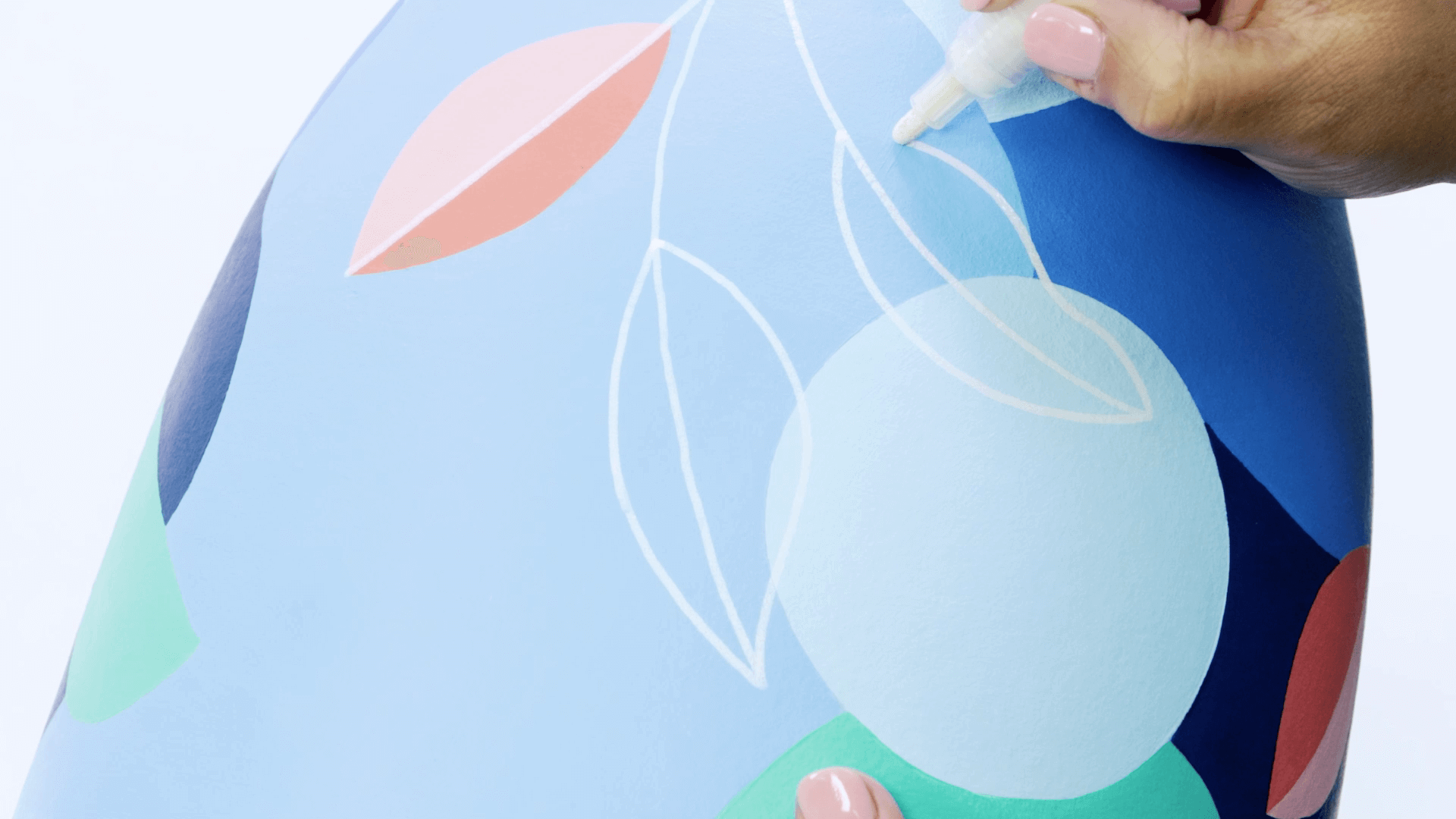 And, you're all done!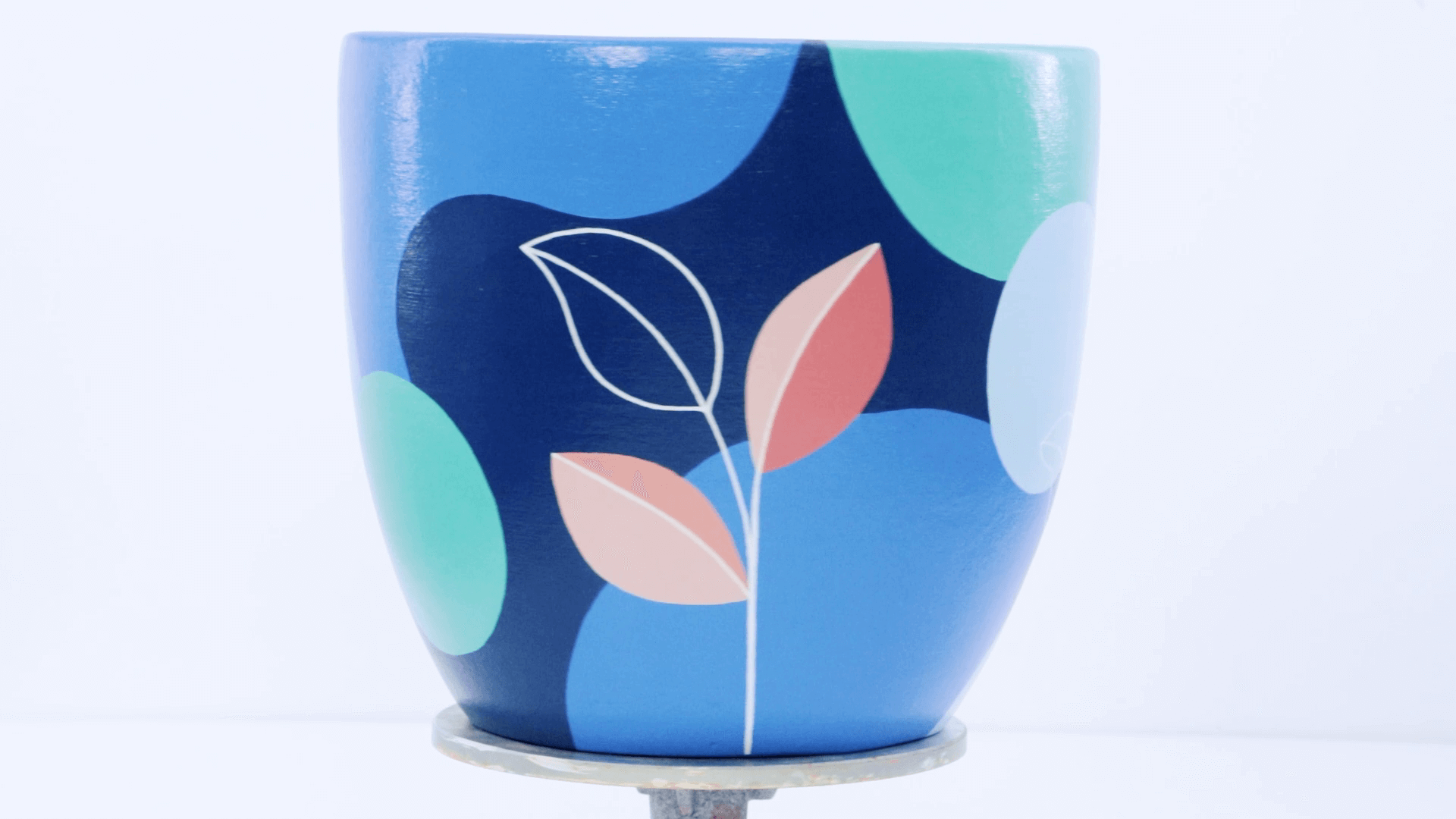 We can't wait to see what you come up with, so #montmarteart or tag us on Instagram or Facebook @montmarteart!
Material List
Acrylic Colour Paint Signature 75ml (2.5 US fl.oz) - Lamp Black
Acrylic Colour Paint Signature 75ml (2.5 US fl.oz) - Titanium White
Acrylic Colour Paint Signature 75ml (2.5 US fl.oz) - Vermilion
Acrylic Colour Paint Signature 75ml (2.5 US fl.oz) - Viridian
Acrylic Colour Paint Signature 75ml (2.5 US fl.oz) - Cerulean Blue
Acrylic Colour Paint Signature 75ml (2.5 US fl.oz) - Phthalo Blue
Acrylic Brushes Signature 5pc
Gesso Premium 500ml (16.9 US fl.oz)
Acrylic Paint Pens Signature Broad Tip 3mm (0.12in) 12pc