Create an Andy Warhol pop art inspired painting
Firstly, pop over to the project webpage and print the four cat reference images onto A3 paper. You can use these to trace the outlines onto the canvas.
Divide the canvas into four equal quarters using the rule and 6B pencil.
Take the first cat outline and shade the backside with the 6B pencil. Flip it over and tape it into position in the first quarter on the canvas. Then trace it with the pencil.
Repeat these steps to trace the remaining three cats onto the canvas.
Once done, redraw the linework to make it stand out as you'll be painting over the outline.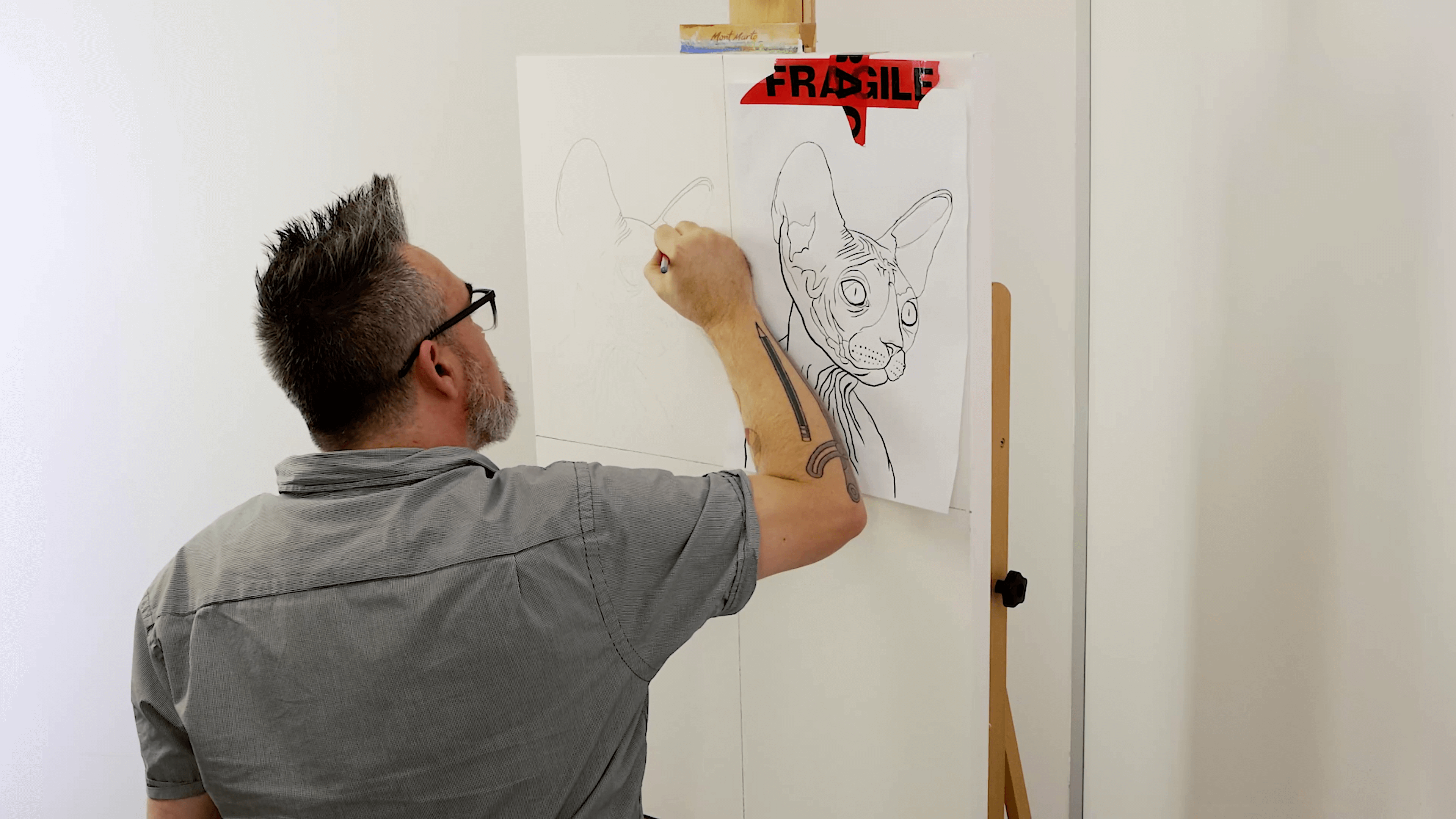 To paint the first cat, mix some Phthalo Blue, Titanium White and Medium Green to create a turquoise colour. Use the damp sponge roller to paint over the first cat. If you can't see the linework, add a bit more water to the mix.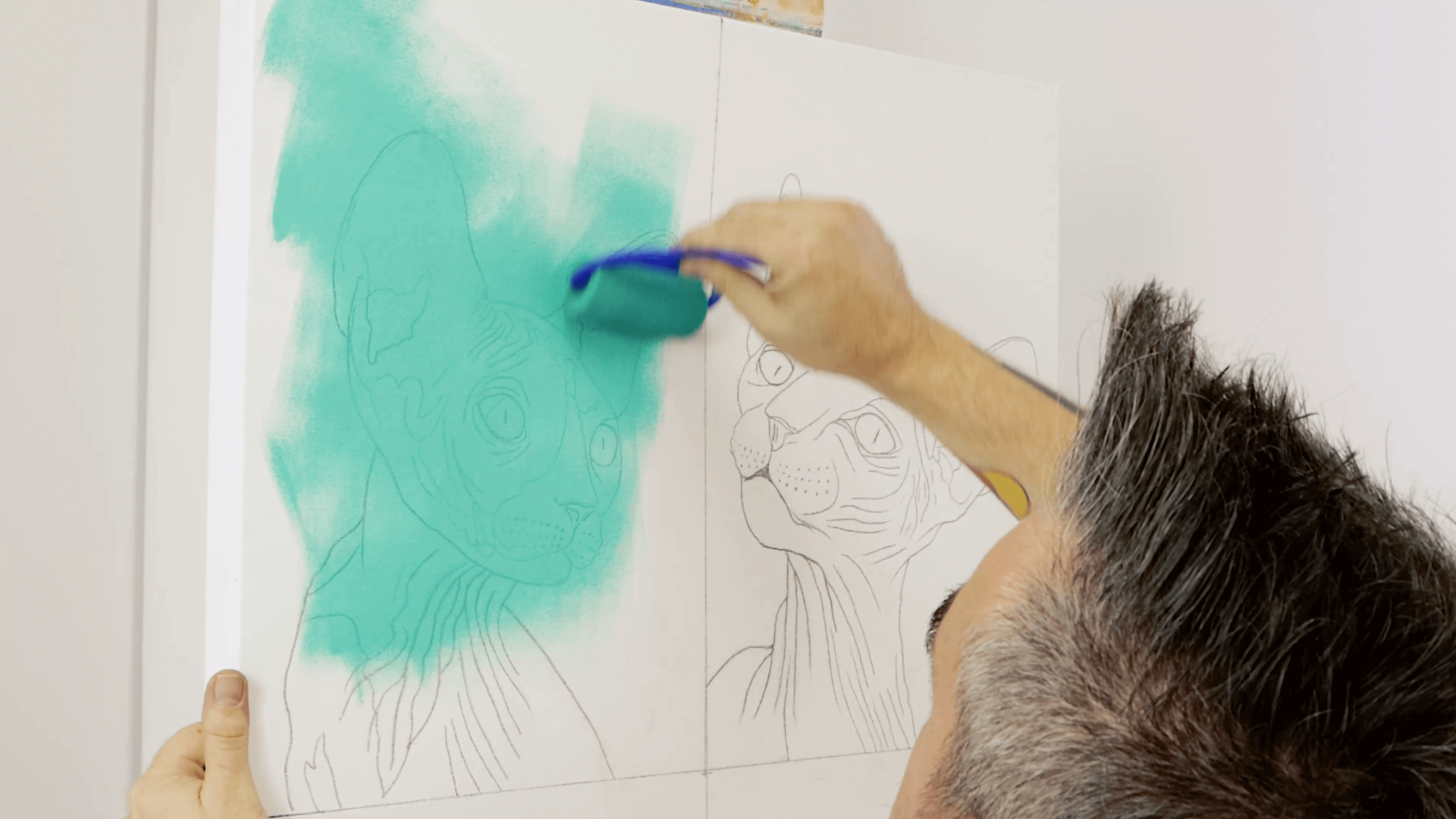 Then, mix Titanium White and a touch of Phthalo Blue to create a sky blue colour. Use the damp roller again to paint the second cat.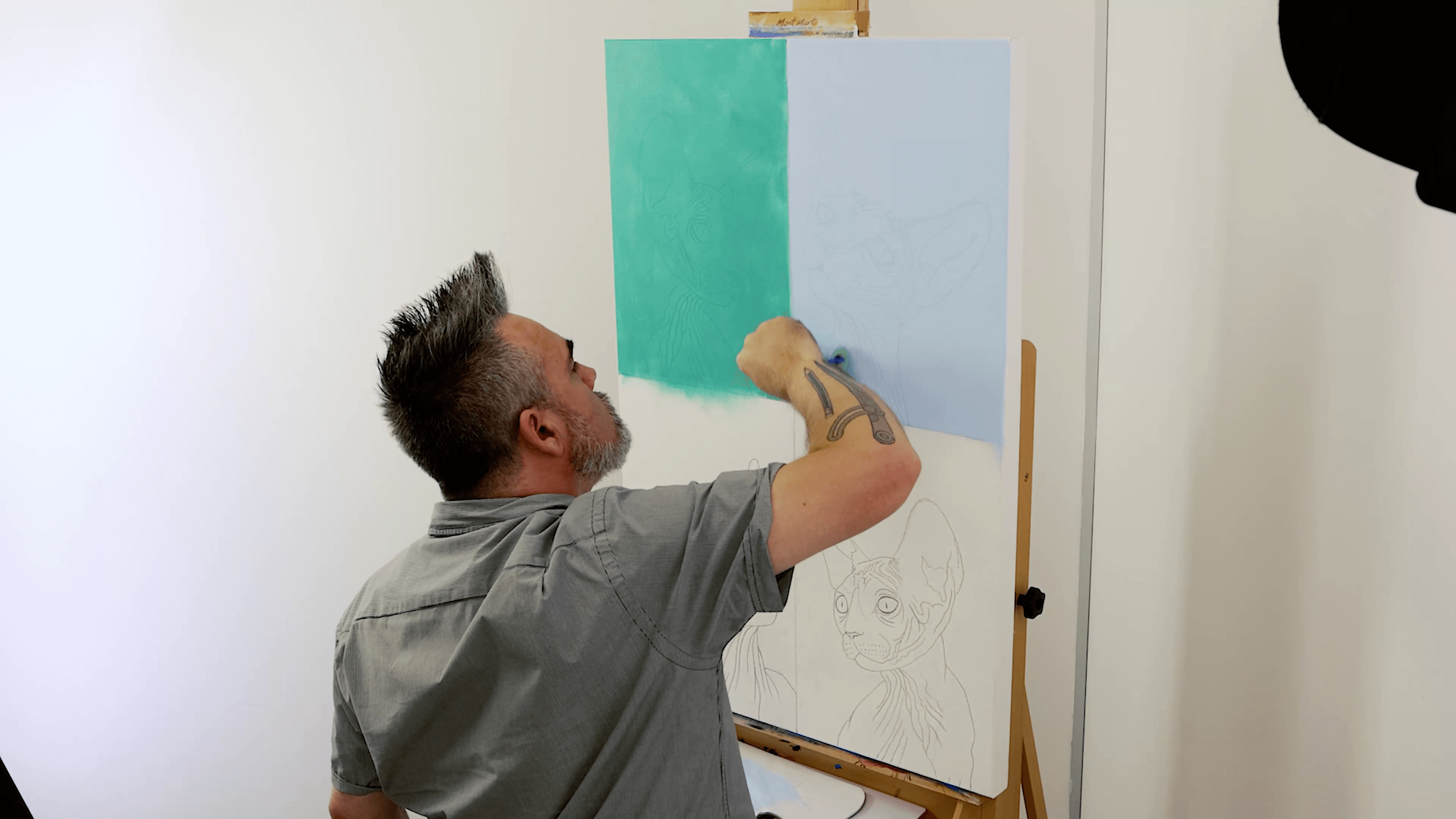 Combine Titanium White and a touch of Violet to make a light purple colour. Paint the third cat with the damp roller.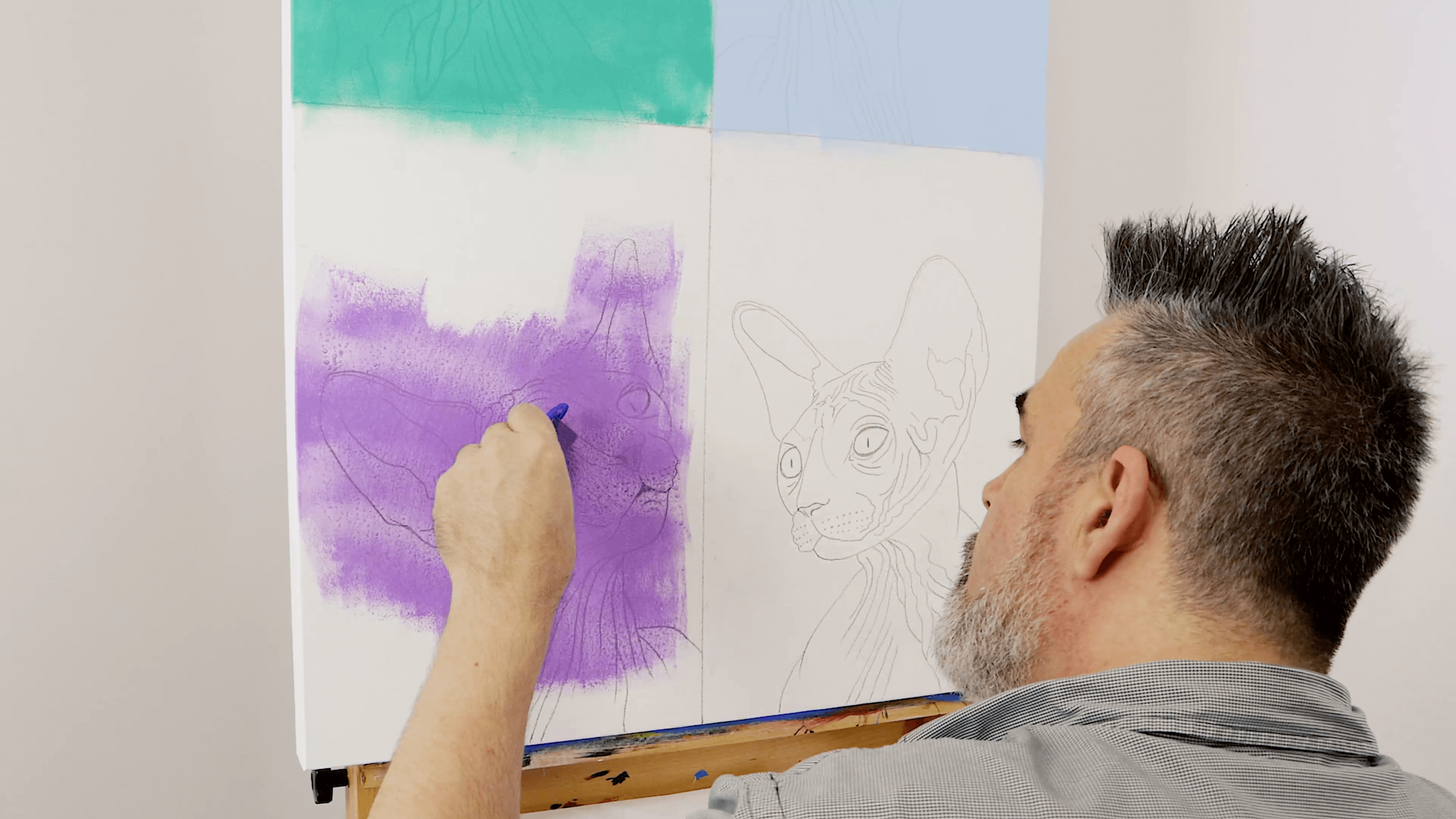 For the fourth cat, mix some Lemon Yellow with a touch of Medium Green to create a yellow-green colour.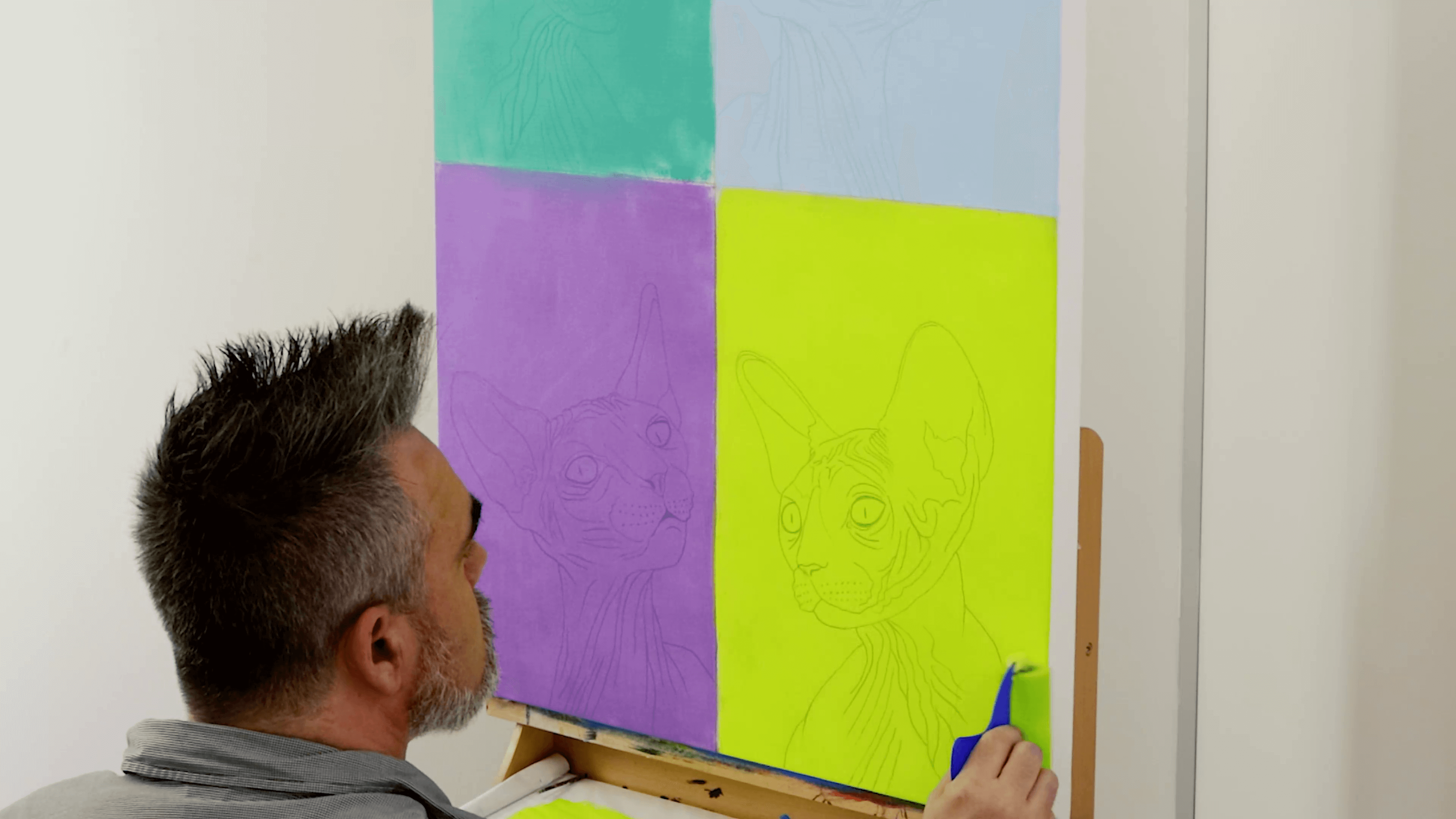 Next, you can move onto painting the background colours and touch up the outline.
For the first background, paint the background with Titanium White followed by Orange. The white base layer will help make the orange pop.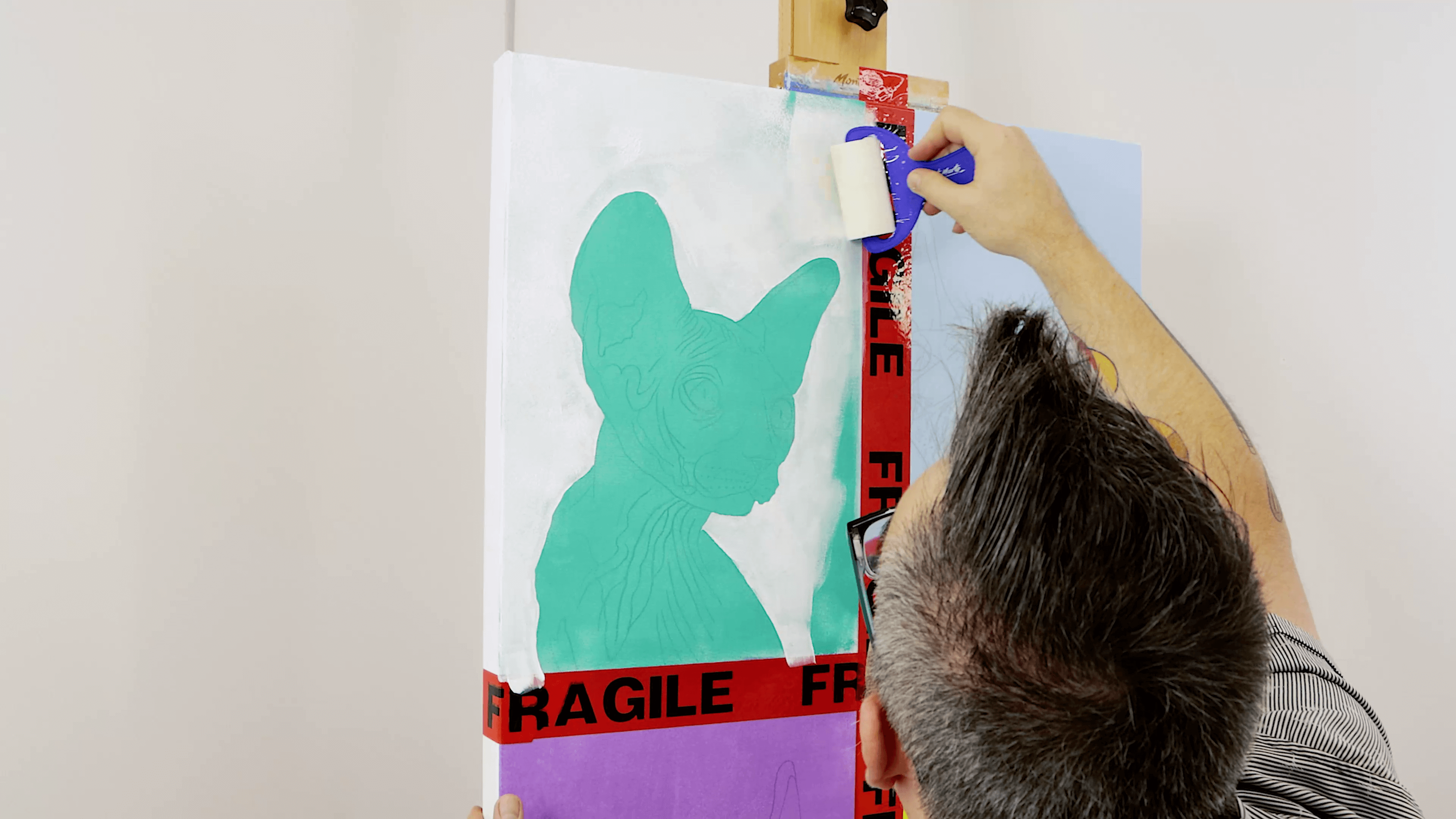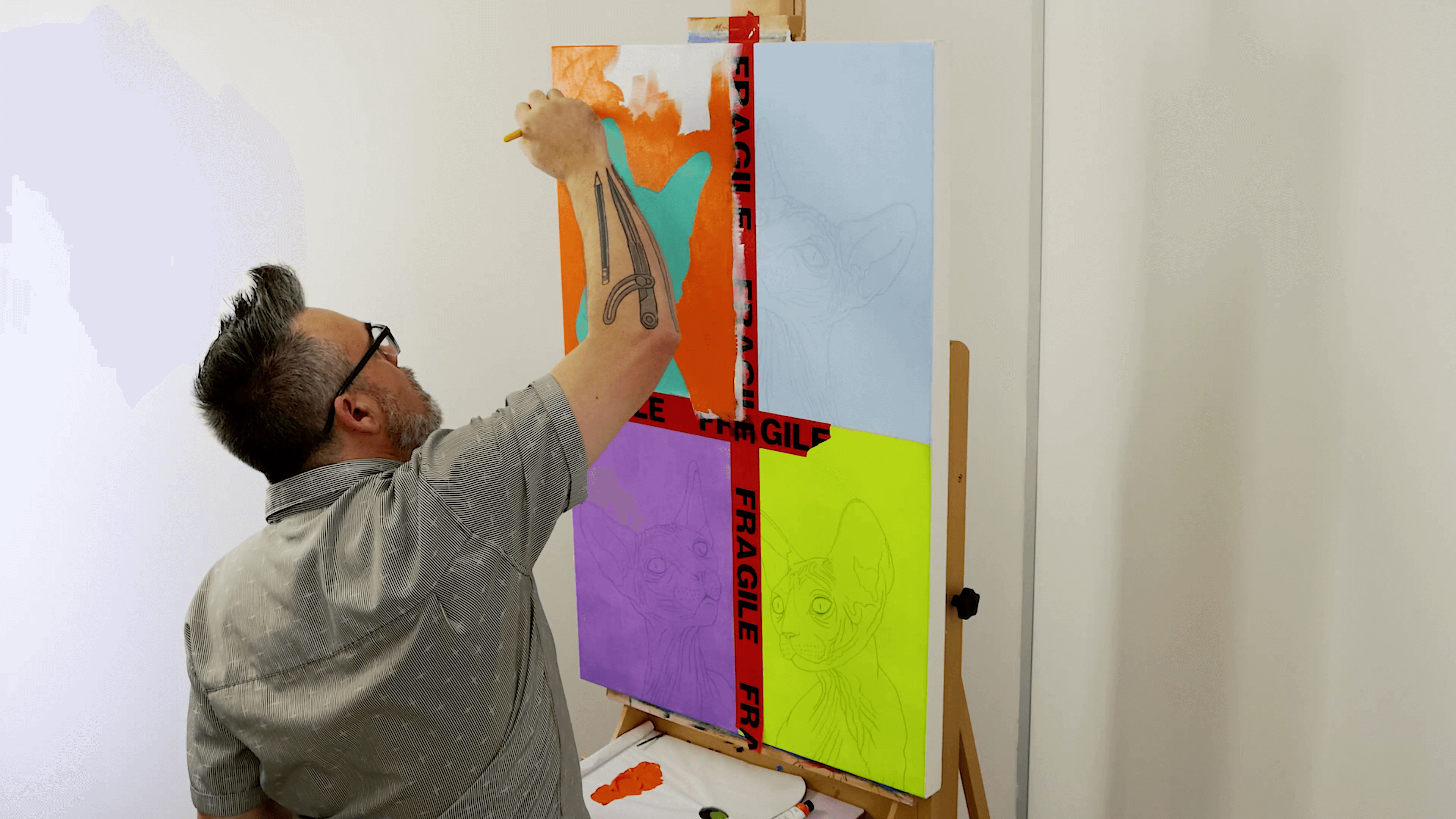 Then, repaint the linework of the first cat with Black. So that the paint flows nicely, mix a little water with the paint.
Use the liner brush to retrace the linework. Try to finish the paint strokes so that the line tapers to nothing.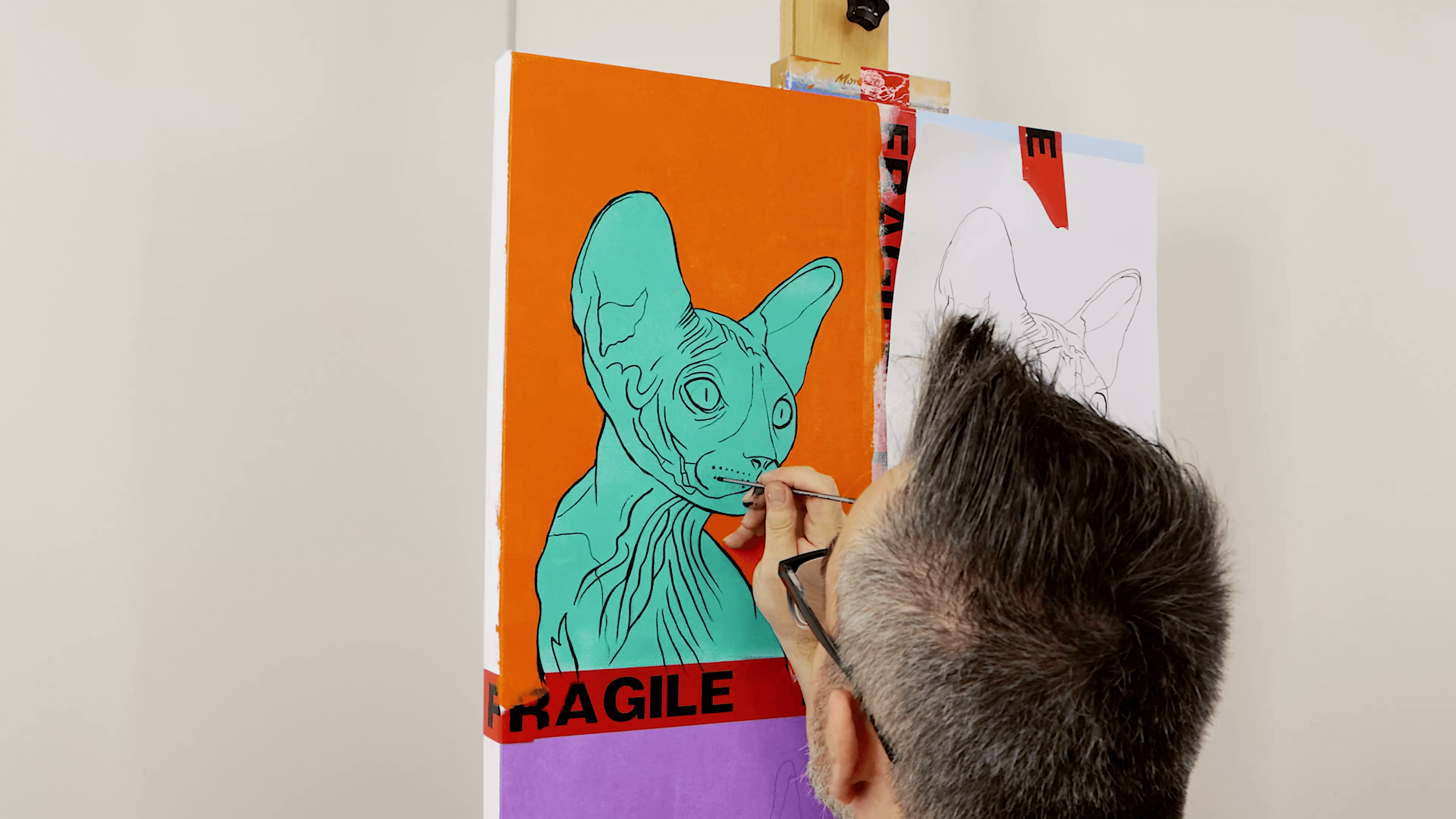 Move onto painting the next background. Again, lay a white base layer before painting Lemon Yellow over the top. Yellow is the complimentary colour of blue, so they make one another pop.
The outline can then be redrawn over the second cat.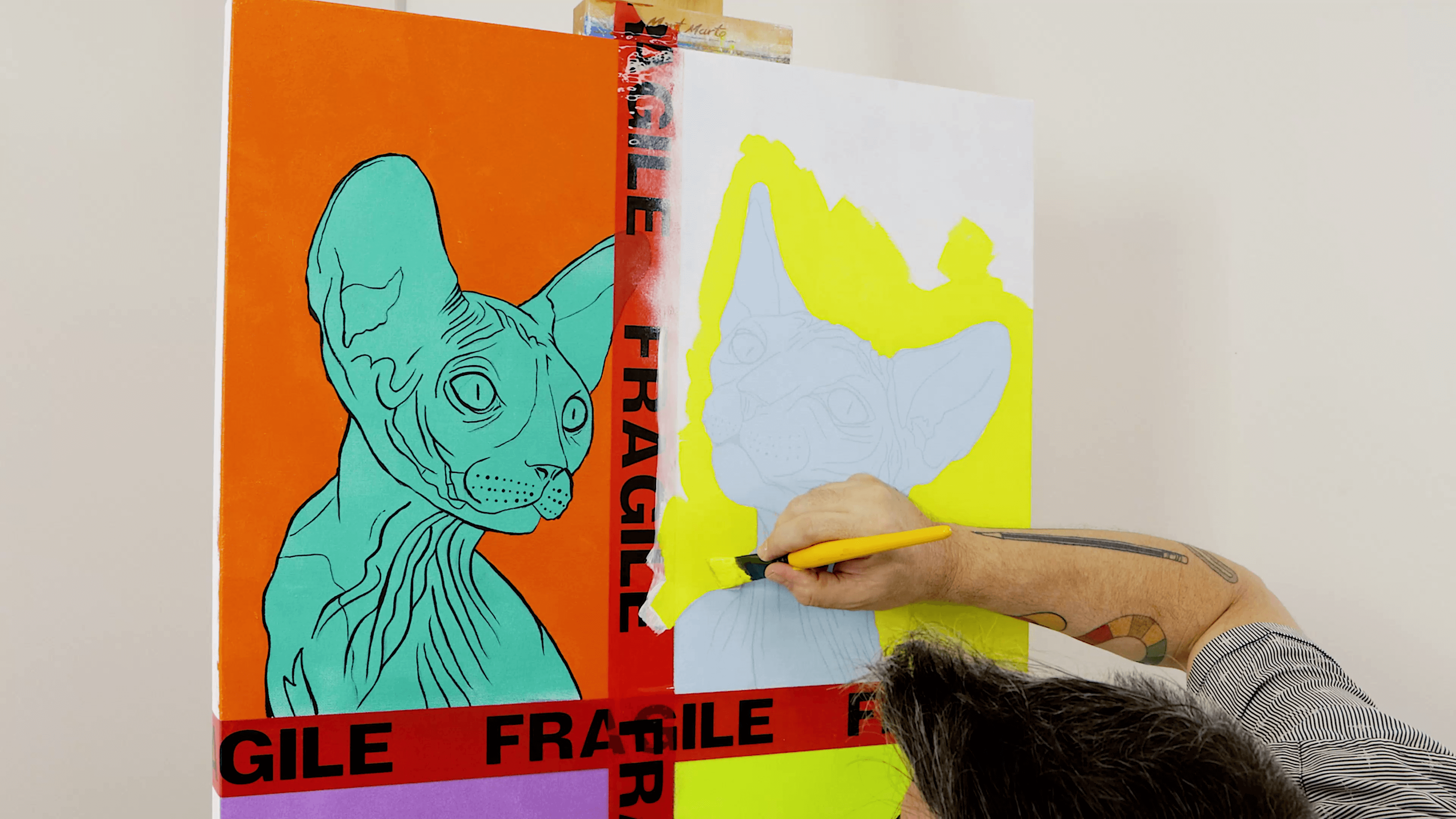 The paint the third background, combine Scarlet and Orange to create a vermillion colour. This colour will cover the light purple well, so a white underpainting isn't needed.
Then, retrace the linework of the third cat.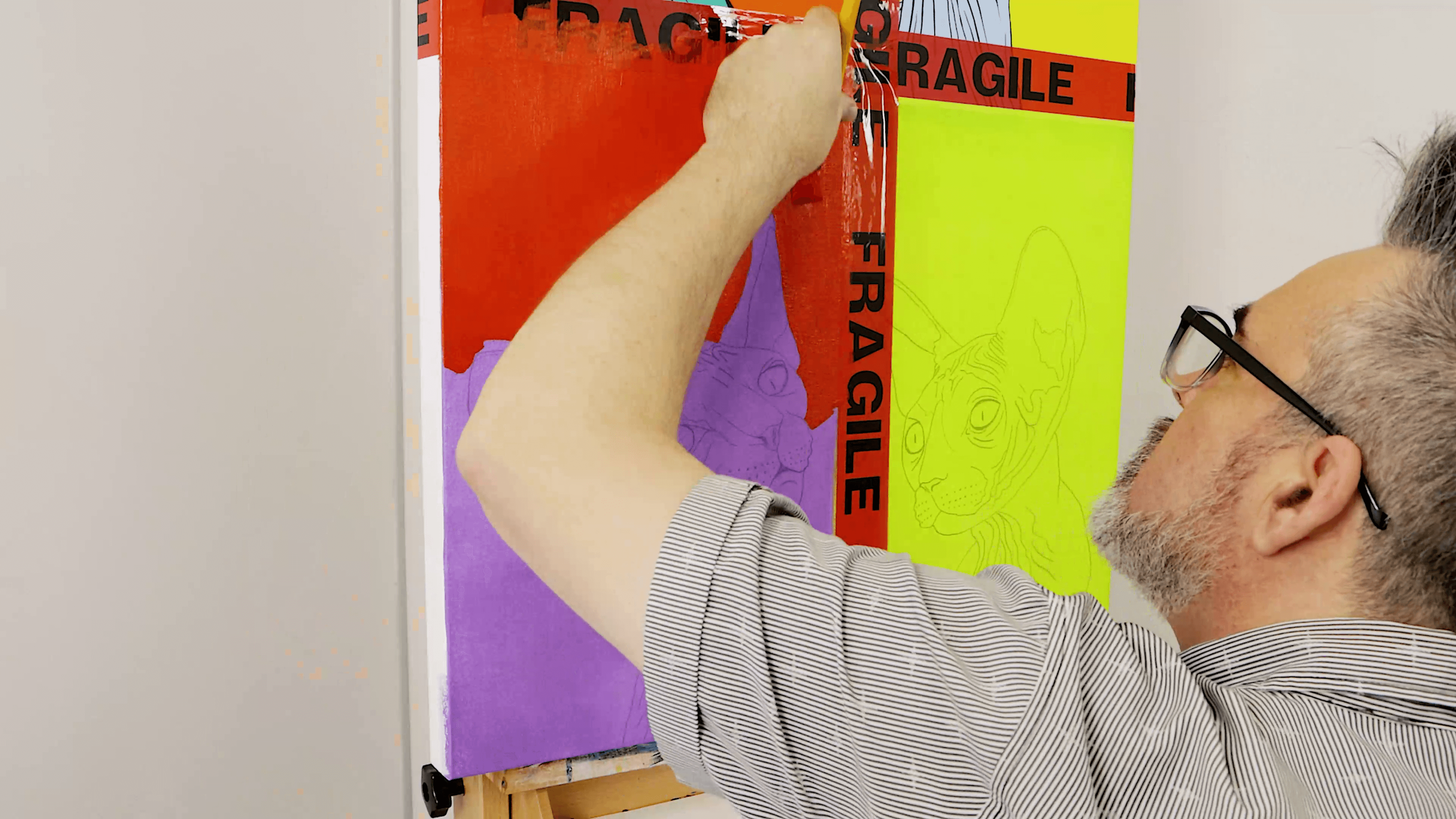 For the final background, you can use Crimson straight from the tube to paint. Once applied, redraw the linework of the cat.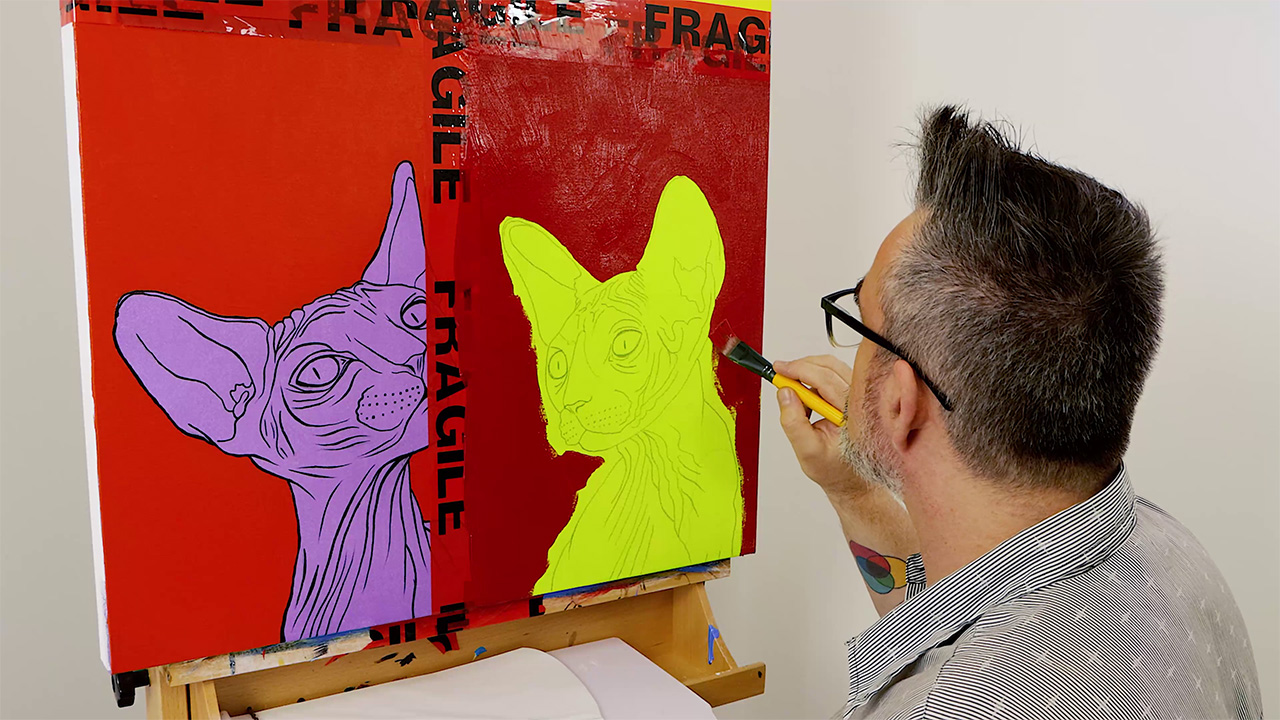 Once done, paint the eyes on all four cats using Titanium White.
You can either leave the eyes white or add some more colour. We used the light purple on the first cat, the turquoise for the second cat, yellow for the purple cat and yellow-green on the final cat.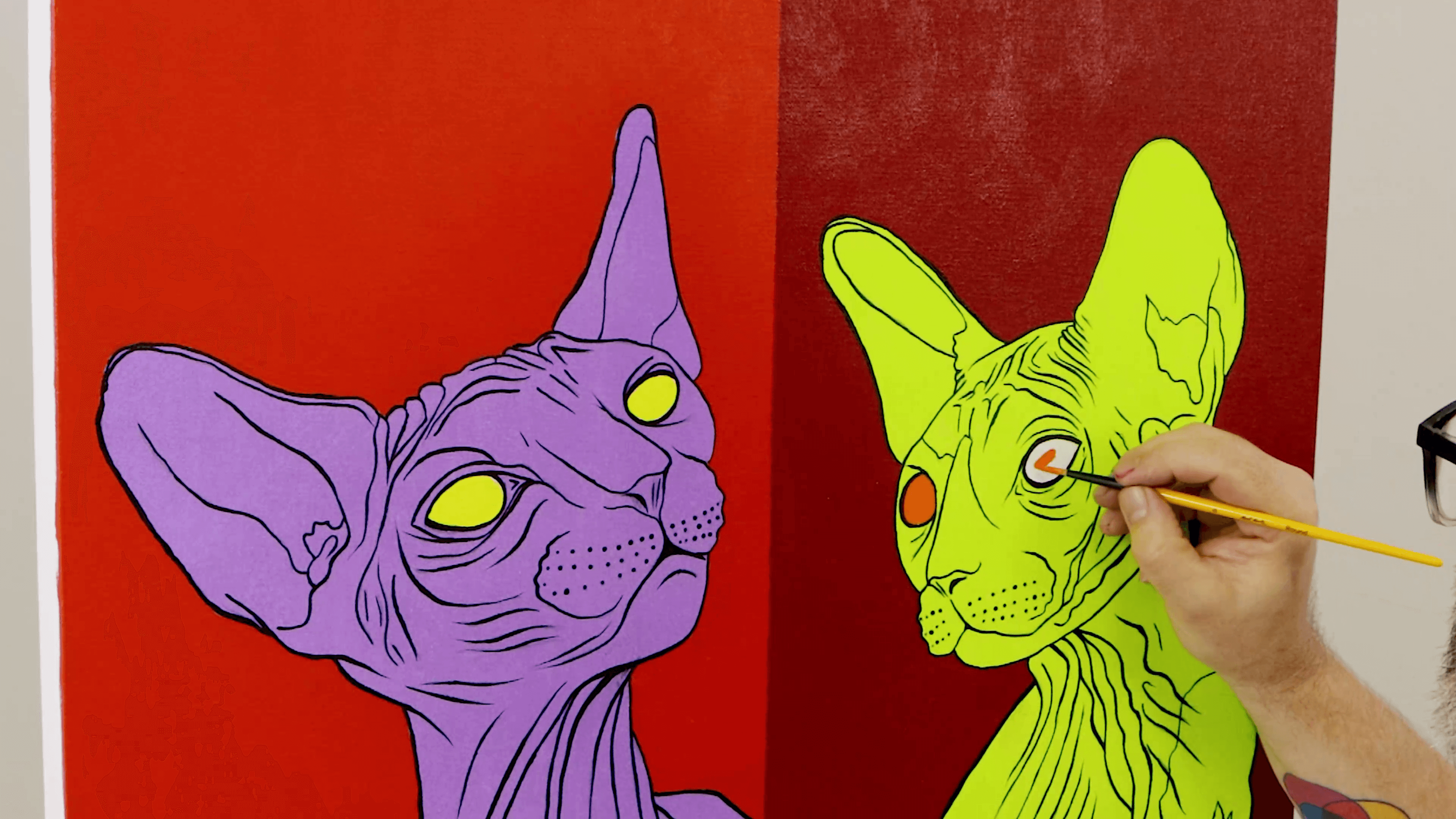 The last step is to paint in the slits in each eye with Black. Then you're all done!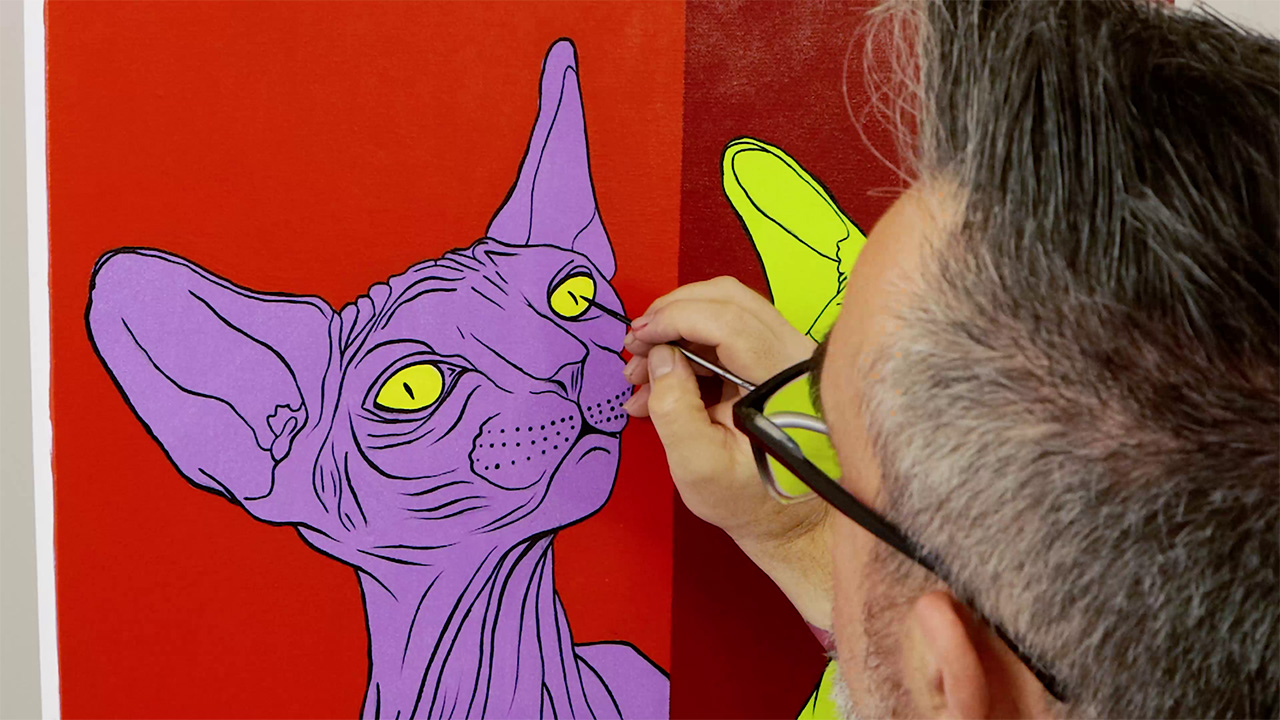 Materials:
CSDT6090 24 x 36in Double Thick Canvas
PMSA8181 Satin Acrylic Intro Set
MSCH7511 Crimson Acrylic Colour 75ml
MSCH7501 Titanium White Acrylic Colour 75ml
MCG0062 No.11 Palette Knife
MCG0022 Tear-off Paper Palette
MACR0003 Foam Roller
BMHS0018 Acrylic Brushes 4pc
BMHS0016 Acrylic Brushes 5pc
Extra Materials:
6B pencil
Roll of masking tape
Long ruler